New Certification for all High Power Rating Switches
Microprecision used its regular certification renewal to add a new ENEC EN61058 rating for its high power switching products. The products in this range are the non sealed microswitch MP40, its sealed versions MP90 and MP110 with its socket, as well as the MP210 with potted cable for IP67/68 applications. So far those products were rated 10A / 400VAC. Now Microprecision had them also tested successfully for 15A/250VAC for high current applications.
The new rating does not affect the operating temperature range, which is still -40°C up to 130°C, depending on the potted cable. These microswitches are precise switches for industrial applications and offer a wide range of connection possibilities and sealing options up to IP68. Low differential travel, down to 0.02mm and low actuating force can be supplied as well. For very specific applications, Microprecision is able to modify technical parameters already for small quantities.
---
MP200 Switch Offers Additional Features
The MP200 switch series with potted cable for IP67/68 applications is slightly changing its part designation to make a clear difference between its 2 possible switching circuits.
The MP210 is a single pole double throw switch, wired as a change over, NC or NO, depending on the application. Its power rating under EN61058 is 15A/250VAC and 10A/400VAC. It is supplied with a 3 wire cable.
A new designation MP220 defines the single pole double break switch, also called a butterfly switch. The rating is slightly lower, 10A/250VAC under EN61058, because of the shorter distance between contacts. This circuit allows to switch between two completely separated circuits. The MP220 is using a 4 wire cable as opposed to a 3 wire cable in the M210. Except for the contact gap, all other technical parameters remain the same as with the MP210.
---
Wilbrecht LEDCO Surface Mount Resistors Earn DSCC Approval
Wilbrecht LEDCO, Inc., a subsidiary of Microprecision Electronics SA, announces that its surface-mount resistors have received Defense Supply Center, Columbus (DSCC) approval. The Bulk Metal® Foil Surface Mount resistors are manufactured based on Vishay Precision Group (VPG) technology. The DSCC, part of the Defense Logistics Agency, uses the approvals to identify suppliers who demonstrate their products have met specific performance, quality and reliability levels.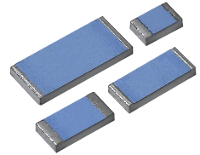 Surface Mount Resistors
Wilbrecht LEDCO is an approved DSCC Vendor for its Bulk Metal Foil surface mount resistors, commercial models VSM and VSMP (Z-Foil) that are tested to MIL-PRF-55342. These resistors are available in five different sizes (between 0805 and 2512) and are constructed to consistently meet strict low temperature coefficients (TCR) and tight absolute tolerances. Bulk Metal Foil resistors supplied by Wilbrecht LEDCO offer a TCR of ±0.2 ppm/°C over the range −55°C to +125°C and resistance tolerance to 0.01%.

Through-Hole Resistors
The company was also named as a qualified vendor on the DSCC's Qualified Products List (QPL) for its Bulk Metal Foil through-hole resistors, series WQ, WT, WS and WZ. They are also built to MIL-PRF-55182/9 specifications and are listed in the Qualified Products Database for RNC90 by the Defense Logistics Agency (DLA).

Wilbrecht LEDCO is also a Vishay Precision Group authorized precision center and will trim, test and ship these Bulk Metal Foil resistors in smaller quantities and selected values within five business days.
---
Quick Overview of Panel Mount LED Indicators
The LED Indicator Selection Guide from Microprecision helps customers select panel mount indicators. The simple overview shows all the available sizes, either assembled in plastic or metal body housings. Selection can be made based on mounting hole dimension or the product picture. For more detailed technical information the user can refer to the website or the more complete technical catalog.
A free copy is available from Wilbrecht LEDCO or Microprecision Electronics:
info@wilbrechtledco.com or info@microprecision.ch
---
Short Selection Guide for Bulk Metal® Foil Resistors
This easy to read overview of Bulk Metal® Foil Resistors available from Wilbrecht LEDCO Inc. lists the products trimmed and packaged by Wilbrecht in its South Dakota factory. The through hole products are RNC90 compliant and fullfill NASA G311 standard. The SMD line covers the 2ppm VSM products as well as the 0.2ppm VSMP resistors. Wilbrecht LEDCO is a Precision Center, trimming and packaging selected Vishay Precision Group metal foil resistors.
Microprecision Electronics SA - Wilbrecht Ledco Inc.