Precision Snap Action Switch now

ATEX

certified
Vouvry – Switzerland, November 14, 2011 – Microprecision Electronics SA is announcing an important new certification on its V3 line of switches.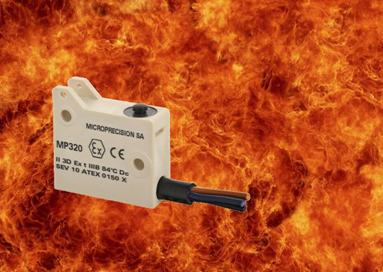 The successful snap-action switches series MP300 is now in compliance with ATEX and is newly approved for zone 22 in a potentially explosive dust atmosphere. The codification is EX II 3D ex t IIIB T84 ° C Dc, protection IP5X, ambient temperature -15 ° C to 80 ° C. The certification covers a wide range of actuators.

The series of MP300 switches are high precision sealed snap-action switches for industrial applications. The switches are ENEC and UL approved and may be used up to temperatures of 170 ° C, depending on the wire or cable configuration.

Microprecision Electronics is an ISO 9001 certified manufacturer of high quality custom microswitches and sealed position switches. The company is headquartered in Switzerland with now a subsidiary in the U.S.A. For more information, contact Microprecision Electronics SA at telephone ++ 41 24 481 4343 or fax ++41 24 481 4360. Email: Cette adresse e-mail est protégée contre les robots spammeurs. Vous devez activer le JavaScript pour la visualiser.; Web: www.microprecision.ch