Microprecision

Electronics SA Extends and Improves

MP500

Subminiature Switch Series, Adding

MP550

Model, UL and

ENEC

Certification
MP500

Subminiature

Microswitches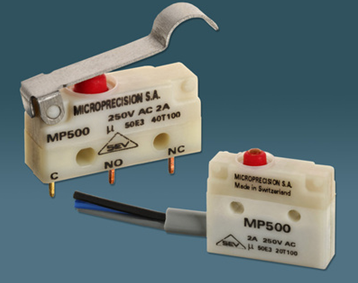 Vouvry — Switzerland, November 14, 2011— Microprecision Electronics SA, extended its IP67-rated MP500 subminiature switch line by adding the new MP550 model, which is rated at IP40 for applications that do not require a high degree of protection. In addition to extending the line, the MP500 switch family is now certified under UL and ENEC for up to 5A/250 VAC. This new certification is encompassed under the new harmonized standard UL 61058-1 for appliance switches, which replaces the UL 1054.

For low-current switching applications in humid environments, gold contacts are available to protect against contact oxidation. The switch is available in a cable version, but can also be supplied with PCB or solder pins. In its standard configuration, the switch uses a PVC cable, but other cable or wires can be used upon request as custom solutions.
Additionally, the mechanical characteristics have been optimized for precise and fast switching with a low differential travel of less than 0.05 mm. The switch also supports a large temperature range of -40° C/ +105° C.
Also available in the standard version are straight levers, as well as simulated roller and roller levers. Other custom levers can be designed and manufactured upon request—even in small quantities.
Microprecision Electronics is an ISO 9001 certified manufacturer of high quality custom microswitches and sealed position switches. The company is headquartered in Switzerland with a subsidiary in U.S.A. For more information, contact Microprecision Electronics SA at telephone ++ 41 24 481 4343 or fax ++41 24 481 4360. Email: Cette adresse e-mail est protégée contre les robots spammeurs. Vous devez activer le JavaScript pour la visualiser.; Web: www.microprecision.ch